About Me aka Chris .. Unemployment-Tips.com 
Chris is a misspelled nickname for a female form of my name,  because in 2006 when I committed to the idea I would learn how to build a website .. come hell, or high water, I was then asked to return to my former job as an unemployment hearing coordinator, for the same very large unemployment cost control company that had laid me off while I was still on an family medical leave.
It happened shortly after the smaller fish, I had worked for doing the same thing was acquired.   The only difference now was that I was to return as a "temp employee" of a temporary staffing agency .. who was also a client of the cost control company and whose reasons for appealing benefits, were hardly, foreign to me.
My plans for Unemployment-Tips.com didn't begin with the idea I would stick exclusively to a website where the subject was how to collect unemployment insurance benefits.
Yet, lo and behold .. here I am ten years later with a website that typically receives forty to forty five thousand unique visitor a month .. which is not something one just gives up .. but is what one would sell, if they are ready.
If you ask me how I think I managed to acquire a significant amount of traffic .. without advertising ever, it's not because I was simply willing to address the real problems claimants have getting benefits, admittedly, sometimes to the point of ad nauseam, but because I didn't steer clear of addressing the real problems employees have to connect the dots to how unemployment insurance really can be made to work .. if at least one interested party, was willing to connect the dots enabling them to come to their own aid before a voluntary quit, or discharge happens. 
If you cater to employees, or employers and ...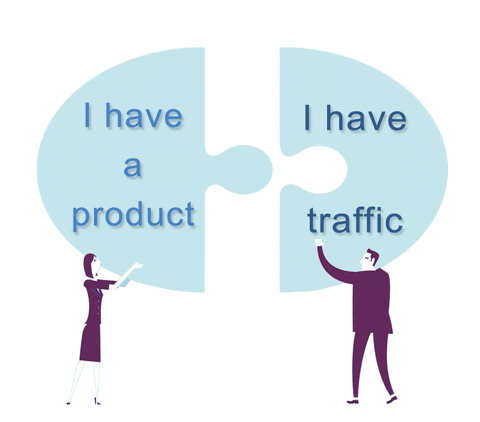 Sign up at Trafeze and learn how to connect your solo assets to my own.
Although it's been years since I personally guaranteed I would answer questions freely, I find it's  sometimes difficult, to resist putting my two cents in when an employment story, or question about an unemployment benefits, actually compels me to jump up on my soapbox and reiterate  a point, because many points are what sparked all those reasons for why I wanted to learn how to build a website in the first place .. for myself.
I do not require your full name where the blogging form asks for one, but I do appreciate something more original than "anonymous", as well as stories, or questions, that don't wander to far astray to obscure a burden, or a personal ability to consider another .. more objective point of view.
As for me, I too use the blog submission form below to add thoughts and what  read about in the world of employment news .. HR news, DOL news .. etc., etc.  
I also used it to  highlight the three years I spent as a trapped temp employee during the day, who sometimes worked into the wee hours, answering questions here .. but coming from a much different perspective than those I answered during the day. 
Whether I told you anything relevant enough to know me, or even think about me, suffice it to say..
I'm a non-attorney spokeswoman for those who often ignore their right in the workplace allowing them the privilege to protect themselves from harm to their own best interests even if described by some as a disgruntled employee with, or without good cause, or reason to be so.  
From that vantage point, I found I had a passion to not be a doormat subordinate for the rest of my life ..that the last straw came after working for thirty eight years and always, to the best of my ability was a willful choice to not be burdened by more years of regret .. of not doing it sooner.

Here's Unemployment-Tips.com legal disclaimer in case some may think my cause of being an advocate to the unemployed equates to evidence of not having any sense at all.

Working Smarter
I am attempting to control the redundancy of the basic free unemployment advice I've already provided by providing a different opportunity to blog about below.

If you need help winning an appeal, please see the UI hearing services page.

I would like to give some credit to my dad, or maybe your own, who may of given you the same job advice.. "Don't work harder, work smarter." The adage is applicable from the beginning of a job, to end goal, when it works to improve a party's odds of winning an unemployment appeal hearing.

What shouldn't be ignored while an employee, is it is when you accept a job, you have virtually been assigned a basic responsibility to use foresight to protect yourself

Employee rights aren't a convenient excuse for why a job was ended, whether true, or not .. unless we exercise our responsibility to use a right, as a means to protect ourselves as an employee.

In this regard, I knew I was lucky to be an employee with the job opportunity of acquiring and using those basic powers of precognition about how unemployment law can be expected to work.


Below is a blogging invitation to anyone who wants to discuss the terms and conditions of working at-will, or the culture of work, we all know can make jobs we love to do.. difficult to stay engaged with.

And, if you don't mind, I'll use it to discuss lesser relevant and more personal points and things I learned about on the job. In was some of the lesser and irrelevant to a burden of proof things, that caused a fundamental shift to my basic philosophy about working for a living to open a big dream frontier to imagine a livelihood without at will being a doctrine in front of a "job".

Knowing how UI worked is what allowed me to recognize a temp employer handed me good cause to quit, and to recognize they had further complicated their own case when they based a subsequent discharge on that good cause to quit a temp assignment. But, it was dreaming of a better way for suitable work and myself to co-exist without conflict that I decided to even learn how to build a website in 2006.

And that it was dreaming that finally allowed me to disengage permanently .. from being an at-will employee makes me feel like I did the right thing .. no matter what the outcome of that hearing the temp agency lost .. might of been.
More Stories, or Helpful Articles to See Outside Your Box
Stories and Articles About Working Smarter
} }